"Shiatsu is a form of traditional Japanese bodywork which stimulates the body's natural healing abilities by applying gentle pressure to points across the body. Shiatsu is a deeply relaxing experience.'" Shiatsu Society
Shiatsu influences 'Moving Naturally' Mat Movement sessions encouraging deep contact with the earth, gentle bodily reaches, self-massage and acupressure through the profound art of touch.
INDIVIDUAL SESSIONS 
These sessions are influenced by  movement and somatic awareness. Participants are encouraged to connect with their breath, spontaneous movements and energetic sensations. They  take place on a padded mat, duvet or chair within  your own home. During the present Covid 19 context  home visits available following up-to-date protective guidelines. Additionally, Skype/Zoom sessions are offered supporting participants through self-touch, acupressure and movement.  All are available to Moving Naturally participants at a cost of £50 for 90 minutes (Couples in same visit £45 each).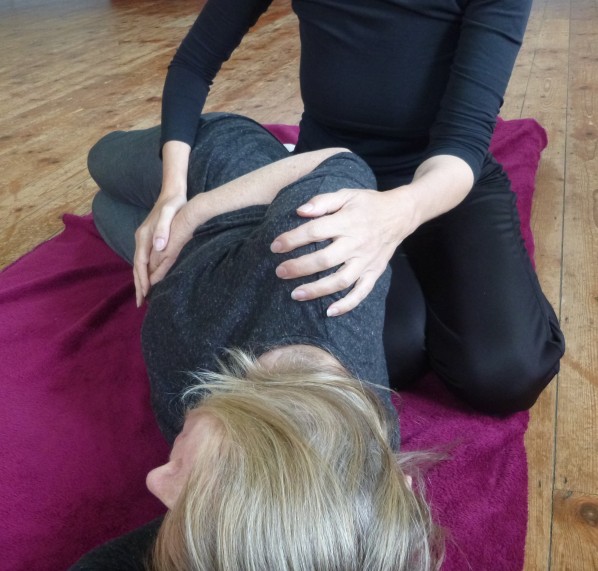 (Participant's Comments:
"My body feels so much better, less stiff, no pain across my lower back…haven't needed to take Naproxen, I feel so much lighter and relaxed. Had a great night's sleep. I am now learning to like and embrace my body."  Sheila Skinner
Senior Registered Practitioner of the Shiatsu Society (SrSS) with insurance.        Qualified from Bristol School of Shiatsu in 1997.
'Self-discovery through Movement and Shiatsu' article by Michelle Wilkinson, published in Spanish Shiatsu Journal, December 2017 66_Boletin_Otoño_2017
'Diving deep the body speaks' article by Michelle Wilkinson published in Shiatsu Society Journal Winter 2014
'Self-discovery through Movement and Shiatsu' article by Michelle Wilkinson published in Shiatsu Society Journal Spring 2014