ONLINE SESSIONS TUESDAYS 10.15-11.45pm Cost: £10
STUDIO SESSIONS WEDNESDAYS 2-3pm & 3.30-4.30pm Cost: £7 (Venue: Withycombe Rugby Club, Exmouth EX8 3HE)
These weekly Mat Movement sessions are a synthesis of yoga positions, qigong exercises and the 'Awareness through Movement' of Moshe Feldenkrais. They are unreflective of mainstream yoga and qigong classes where focus is given to the accuracy and correctness of a particular pose or exercise. In contrast the selected yoga and qigong gives emphasis to the participant's body awareness and explores an anatomical theme such as 'Braving Bones' and 'Loving Lymph' which is echoed in that week's 'Body Talk' sessions. For example, a personally modified bridge pose may be explored to engage with the spine, while Movement 10 'Casting the Net' of the 18 Movements in qigong, may be engaged to have a sense of the oxygenated blood which leaves the left side of the heart and the deoxygenated blood that returns to the right side. View a taster session on the spine in the top right-hand video.
The adaptable, gentle and informative content benefit participants with restricted mobility and long-term illnesses such as asthma, depression and neurological conditions. Participants discover how to help themselves, to develop somatic awareness and draw on the numerous bodily resources like the circulatory, digestive, respiratory and nervous systems. There may emerge a deeper sense of self and an opening towards feelings of ease and comfort as participants move through different levels from standing, sitting and lying. A firm chair may be used in addition to or instead of a mat if that is more appropriate for the mover.
The approach to facilitation of these 'Mat Movement' sessions stem from facilitator Michelle Wilkinson's daily yoga practice over a period of 40 years and qigong during Shiatsu training and community classes since the 1990s. These Eastern practices encourages slowing down so that there is more awareness of bodily physical processes such as breathing and physical structures such as bones, muscles and organs. They offer an opportunity to tune into the Qi or energy both inside and outside the body and their interplay. The Oriental traditions regard human energy (aliveness or vitality) as an interaction with the cycles of nature. This energy can be restored when deficient, unblocked if stuck and calmed if irritated.
Participants' Comments:
"The simple movements make me feel so calm and relaxed. It is amazing how I can do things, that before I started I couldn't do at all." Mary Chaplin
"The variety…each session is different. Appreciate your personal consideration of us all." Valerie Hillebrandt
"I just wanted to say thank you. It may not seem much, but being able to stand up without support, has given me loads of confidence. I used to be terrified of falling in case I couldn't get up. I am enjoying the movement session so much and I am really feeling a difference in my mobility. I am also feeling a great sense of achievement. People have noticed that I am looking better." L.B.
INDIVIDUAL PERSONALIZED MAT SESSION: £50 for 75 mins. taking place indoors, outdoors, skype or zoom ; see second video down on the right.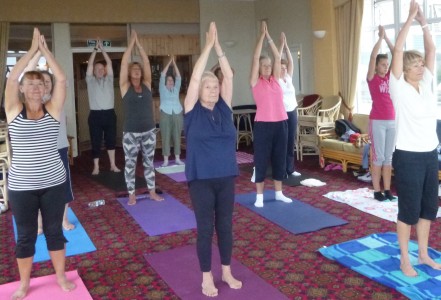 MAT SESSIONS at THE DEVONCOURT HOTEL, EXMOUTH
Time: Mondays 3 – 4pm & Wednesdays 10 – 11am
To become a Lifestyle Health Club Member contact the hotel on 01395 272277